…"Assume that R is the amount of money you'll need to retire, X is the number of years you'll live, Y is your rate of return, and Z is the rate of inflation. You have no idea what X,Y, or Z is. Solve for R."
One solution is an inflation-adjusted annuity, which promises to pay you a sum that will rise with the cost of living every year until you die, much as Social Security does. Should you try one? Only if you expect to live long — and even then, you'd be better off waiting until interest rates rise.
The rule of thumb with 401(k) withdrawals is to start by taking out 4% of your portfolio the first year, and adjusting that amount upward for inflation each year. Most times, it's too conservative: You'd need a $1.25 million portfolio to get an initial $50,000 annual withdrawal. But when the first few years are down years in the stock market, your withdrawals can simply aggravate your losses and increase the chance you'll run out of money.
Because the stock market is unpredictable, to say the least, some people use an immediate annuity to smooth out some of the bumps in a portfolio. An immediate annuity is a contract between you and an insurance company. You pay the company a lump sum, and they agree to pay you a set amount per month for the rest of your life. If you live to 120, you win. If you join the Choir Invisible the year after signing the contract, you lose, and the annuity company pockets your investment.
The payout is based primarily on an interest rate — what the company expects to earn on your lump sum. As a simple example, suppose you want to invest $100,000. According to Immediateannuity.com, a 65-year-old man could get $548 a month for life — a 6.58% payout rate.
The 30-year Treasury bond yields about 3%, and insurance companies are not magic yield-making wizards. Some of the extra yield comes from the money left on the table by annuitants who have gone to the great field office in the sky.
The rest comes from the insurance company's own investments, which is why it's good to choose a financially strong annuity company. You want a company that can still pay, even during economically stressful times. States do have guaranty associations backing annuity policies, typically to at least $100,000, but it's best to avoid shaky companies entirely.
While the annuity's payout is decent, it's fixed. Let's assume that inflation averages 3% — the average inflation rate since 1926, according to Morningstar. The effects of inflation are cumulative: After 30 years of 3% inflation, your $548 will have the buying power of $220. Unless you plan to live on toasted plaster, you'll have to find a way to offset inflation, and a fixed annuity won't provide that.
An inflation-adjusted annuity aims to solve the problem by giving you an automatic cost-of-living increase every year. But the cost is steep. A $100,000 inflation-adjusted annuity policy from Principal Life Insurance offers a $379 monthly payout for a 65-year-old man; American General offers a $363 monthly check. At 3% inflation, you'd have to wait 15 years before you'd equal the payout from an immediate annuity without inflation protection.
Incidentally, the average Social Security payment, which bears strong similarities to an inflation-adjusted annuity, is $1,234. An inflation-adjusted annuity yielding the same amount would cost a 65-year-old $325,877 to $348,600, according to Vanguard. That's without benefits to survivors or disability benefits, which Social Security also provides.
An immediate annuity can have a place in your retirement portfolio, particularly if you feel you need to have at least one stream of income you can count on. But because interest rates are so low, you should wait until rates rise again before purchasing an annuity. Your money will go much further when the 10-year Treasury note, now yielding about 1.8%, rises to more normal levels. The average since the 10-year was introduced is 6.6%.
If you're willing to take more risk, however, you may be able to get better income from dividend-paying stocks. Although a dividend hike is never certain, a good number of stocks have a long record of increasing dividends over time. For example, 1,000 shares of Exxon Mobil paid $1,280 in dividends in 2007. The same 1,000 shares have paid $1,610 in dividends the past 12 months.
You can see a list of companies that have raised their dividends every year for a decade through Mergent's Handbook of Dividend Achievers at http://www.mergent.com. Vanguard's Dividend Appreciation ETF (ticker: VIG) invests in the Dividend Achievers; currently, it has a yield of 2.08%.
Nothing's easy about figuring out retirement. If you really must have guaranteed income, consider an immediate annuity — eventually. Otherwise, you'll probably be better with a mix of income investments, especially those that can throw off more income over time.
from: usatoday.com
—
How a Fixed Index Annuity Guarantees Inflation-Protected Income in Retirement
by Hersh Stern – Revised Wednesday, January 4, 2017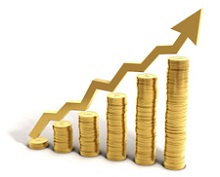 One of the single greatest fears current retirees face is the prospect of outliving their retirement income and savings.
One popular strategy to help stretch a retiree's income during retirement is known as Bengen's Four-Percent (4%) Drawdown Rule. The premise, born in 1994, contends that retirees can safely withdraw 4% from a balanced stock (50%) and bond (50%) portfolio for 30 years while annually raising the withdrawal for inflation adjustments. By limiting annual withdrawals from a retirement portfolio to less than 4%, this theory suggests that a retirement portfolio should produce income over the course of an individual's lifetime. While this concept has become the practicing standard of many financial professionals over the past two decades, it isn't entirely foolproof.
In 2008, Nobel Laureate William Sharpe reported that the 4% Rule isn't without flaws. If the current economic climate was considered in the equation, approximately 57% of today's retirees would be at-risk for outliving their assets.
Fast forward to 2013 and this may no longer be the answer for new retirees. In two white papers by Dr. Wade Pfau "Breaking Free from the Safe Withdrawal Rate Paradigm: Extending the Efficient Frontier for Retirement Income" and "Mitigating the Four Major Risks of Sustainable Inflation-Adjusted Retirement Income" the case is made that the 4% rule may need to be adjusted for today's interest rate environment.
Click here for the complete
Fixed Index Annuity table
| Company / Product | Cap Rate | Bonus | Yrs. |
| --- | --- | --- | --- |
| ProtectiveProtective Indexed Annuity II 10 | 5.60% | N/A | 10 |
| SymetraSymetra Edge Pro 7 | 6.00% | N/A | 7 |
| Great AmericanAmerican Legend III | 5.25% | N/A | 7 |
| ProtectiveProtective Indexed Annuity II 7 | 5.25% | N/A | 7 |
| SymetraSymetra Edge Pro 5 | 5.00% | N/A | 5 |
| ProtectiveProtective Indexed Annuity II 5 | 4.75% | N/A | 5 |
This is a table illustrating today's top interest rates for fixed index annuities. The table lists the name of the insurance company, years that surrender charges would apply, and the premium bonus, if any. To learn more about deferred annuities click any line in the chart or call 800-872-6684 for quick answers.
Dr. Pfau plotted 1001 different financial product allocations, evaluating what the likely end value of each mix would be and the probability of the asset producing sustainable income for life. Surprisingly, the study's findings suggested the traditional mix of stocks and bonds produced one of the poorest levels of results. The combination found to produce the best results was comprised of traditional stocks and fixed SPIAs (Single Premium Immediate Annuities ). Pfau's second study further examined fixed income annuities, focusing particular attention to those offering fixed indexed components. This paper's findings suggest that fixed index annuities (FIAs) produce the best outcomes in terms of ongoing income and longevity protection for current and future retirees. Pfau concludes that a portfolio utilizing the 4% rule has a high probability to fail but through changing the bond portion to a fixed index annuity and a 30-year inflation income rider of 4%, there's a high chance of success. (See examples of fixed index annuities in the table below.)
The reason for Pfau's conclusions are that while traditional stocks and bonds have provided strong returns over time in previous decades, the current era's market volatility has weakened actual annual portfolio performances. To help mitigate the potential eroding power of inflation, products such as fixed indexed annuities with inflation protection added should be considered by current and future retirees.
Addendum:
In a review by Dr. Michael Finke, Dr. Wade Pfau and David Blanchett titled "The 4 Percent Rule is Not Safe in a Low-Yield World" by utilizing the U.S. economic climate in 21st century for their analysis (as opposed to Bengen's 20th century historical data), these researchers found the 4% rule has a 57% failure rate.
Additionally, in his recent study titled "Breaking Free from the Safe Withdrawal Rate Paradigm: Extending the Efficient Frontier for Retirement Income", Dr. Pfau found the following results by including 1,001 unique financial product allocations:
The ending death value of each asset mix and (2) its probability to provide 30 years of the retiree's income needs defines efficient retirement income with a mix of different investment products.
A combination of stocks and bonds represented the weakest retirement option but best performing products, according to Pfau, included "the combinations that best meet both criteria are those consisting of stocks and fixed SPIAs." He also included as a product mix in his study, a fixed indexed annuity (FIA) with a 30-year inflation-adjusted income rider.
The FIA (including worst-case guaranteed projections) compared well against the stock/SPIA combination with 3% assumed inflation; however, it outperformed other product allocations utilizing a 4% assumed inflation rate.
More Coverage:
The University of Iowa
Breaking Free from the Safe Withdrawal Rate Paradigm by Wade Pfau
– See more at: https://www.immediateannuities.com/fixed-index-annuities/how-fia-guarantees-inflation-protection.html#sthash.iGbAQAqd.dpuf